The Social Director's picks for
Getting there and other FAQs

Location
Project Artaud Theater is located inside Project Artaud, located at 450 Florida St. between Mariposa and 17th Streets, in Potrero Hill.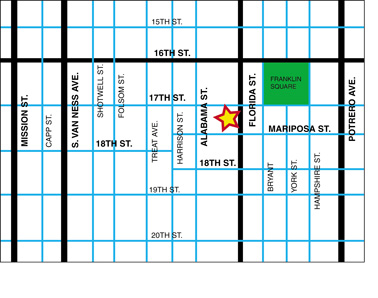 This Map is NOT to Scale
---

Transit Information

BART: Take BART to 16th St. Station. Take the 22 Fillmore bus going East to Harrison St.; walk one block East to Alabama. Or take the 27 Bryant bus to 17th Street; walk two blocks west to Alabama.

MUNI: The 22 Fillmore will stop at 16th and Harrison. The 27 Bryant will stop at 17th and Bryant.

---
From the South: Take 280 to 101 and exit Vermont; left on 17th; go six blocks to Alabama.
From the East: Take the Bay Bridge and exit 9th St.; veer left on Harrison (one way), left on 17th; one block to Alabama.
From the North: Take Van Ness south; cross Market St. and continue on South Van Ness; turn left on 17th; go five blocks to Alabama.

---
Should We Bring The Kids?
This is a great show for families with older kids (10 or 12 and up). The content is appropriate for families, but it's a one-man show, so it's really a question of the child's attention-span.
However, we do not allow infants or children under 8 years old in the theater for this show. The theater has great acoustics that make this show sound wonderful, but this also means that audience noise is also amplified. So infant and child noise is very, very noticeable to the audience and the performer.
---
How Long Does the Show Last?
The show runs about 2 hours, plus there is a 15-minute intermission about half-way through. So with an 8pm curtain, the play is over about 10:15 pm.