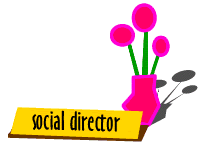 The Social Director's picks for
Coffee and Dessert
After the show at the theater, you want to stop off in a nice, quiet place where you can sit down and have good coffee, serious chocolate, and chat with your fellow theater pals.
The Sitting Room
108 W Roy St .(206) 285-2830. Coffeehouse. Sunday, Tuesday - Thursday: 4pm to midnight Friday, Saturday: 4pm to 2am. Closed Monday.
This comfy European style cafe is perfect for coffee and dessert or a post-show libation. They also have a small cafe menu, if you didn't have time to eat before the show. Sometimes there is live music but not usually too loud for conversation.
Uptown Espresso & Bakery Office
525 Queen Anne Avenue N. (206) 285-3757
Everyones' favorite latte place is an option only on Friday or Saturday night, when it's open until 11pm, or after a matinee. (It closes at 10pm other nights.) They have good desserts, and outdoor seating when the weather is good.
The Famous Pacific Dessert Company
127 Mercer St.. 206-284-8100. Sun/Mon 1-10pm, Tues- Thurs 11:30 am to 11pm, Fri/Sat 11:30am till Midnight.
I like their motto: "Eat Dessert First...Life is Uncertain." But I like their cheesecake even more. It's right down the street from the theater and the desserts are killer. We wish they were open later on weeknights (only until 11pm - you'd have time if you're quick) but on Friday and Saturday, they are open until midnight, so you have plenty of time to indulge. They also have a weekday happy hour from 3 to 5pm ($3.50 for any dessert and coffee).
---
Talk Back to the Social Director. Please feel free to let the Social Director know what you think of her suggestions and recommendations. Tell her about any that aren't mentioned but should be.